Hi friends, welcome back to "Victor and George talk about this one show from quarantine." Chris Harrison interrupts breakfast in the house so that he won't have to push back a tee time… and also to give us a roadmap for the episode, collect a check, and probably compliment Trevor on his Jed-Wyatt jacket. It is a chance for Chris and Bri to talk about the love they professed for each other. As Chris is talking about Bri, Rudi seems to want to hear the same kind of thing from Matt about herself, and Matt seems to want Chris to shut up already. 
Then Chris Harrison says there is a "big change" coming. There are four tour buses outside, and the show is going to Vegas. It is a four-hour drive, but I suppose tour buses are cool. Al Gore probably had a stroke reading that eight people took four tour busses from LA to Vegas for a reality show, but his legacy is secure – you are only reading this because he invented the Internet. Trevor says "it has always been a dream of mine to be a touring musician… on tour with my family." He adds the last part in a tone that suggests most of Trevor's musician dreams don't include using the bus for homeschooling and diaper changing.
As is to be expected, the camera focuses on the endangered relationship, which I suppose is Rudi and Matt. Matt tells the camera he would "like a significant other" but "I've just been through so much [expletive]!" He says this in a tone where you wouldn't be shocked if the next thing he said was "I've really gotten into the men's rights movement lately." Not saying he has, just that, you know, the tone was consistent. Matt also stares forlornly at the desert expanse on the drive, commenting that he loves to live in the middle of nowhere somewhere between California and Nevada – which, coincidentally, has been the breeding ground for .. uhh… something resembling the men's rights movement. 
A thing that happened during the drive is that Trevor serenaded Jamie with some lame song – and production layered that track over shots of the other couples making out. I'm sure Chris and Bri had Trevor providing the soundtrack to their love story on their bucket list – so I'm glad that's checked off. Three of the couples (Ryan and Natascha, Bri and Chris, and Jamie and Trevor) arrive at the NoMad, a hotel that is temporarily closed down right now, but was open whenever they filmed this. But Rudi and Matt stop en route at a motel to spend a night alone, something that no one told the other couples was an option for them. 
Chris and Bri Date
Bri and Chris are a great couple IRL (it seems) and thus very un-dramatic for the producers. This date is at a Vegas wedding chapel, and Chris and Bri will sing for a couple that is getting married. There are no guests at this wedding. Oh, also it is an interracial wedding. A white gentleman is marrying a black woman. I WONDER WHY YOU PICKED US FOR THIS DATE? Chris and Bri do not ask. They perform a rendition of "Stand By Me" and it is good. Then they sit and chat and Chris tells us that he always wanted to be married by his father, who was a minister. Also his father and his best friend from college died on the same day. If they screw things up for Bri and Chris I will be very unhappy. Chris is the kind of guy who chokes up at a random Vegas wedding for a couple he has never met, you must let him find love!
Chris also has friends that he could call at 3AM and just chat about whatever. Props to him. I can't even talk to friends on the phone in the middle of the day. I need to schedule phone calls with my friends because, at least in my circle, no one actually uses their phone to call without pre-scheduling calls. I recommend communicating with friends via a google doc where you both write about a reality-television program.
Back at the NoMad we see Jamie and Rudi hanging out. I get the sense that they didn't invite Natascha to this girl chat, but that's okay. Rudi tells Jamie that she is basically in love with Matt. 
Jamie and Trevor Date
Jamie and Trevor get a date, and it is hanging out at the T-Mobile Arena. The Las Vegas Golden Knights play there! I mean, not now, of course, there's a pandemic on. But it is their arena and the ice is in. Trevor tells us he "played hockey growing up" and is that… is that a Canadian accent? Unclear, but Trevor apparently played some semi-pro hockey at some point, so he could have picked it up from his teammates. He and Jamie skate around on the ice and Trevor is both much better at skating than Jamie and also maybe not as good at skating as I'd expect him to be. But this is kind of a cool date, and they don't have to busk like they did in LA. Also, someone put a couch on the ice for them to sit and chat together.
Jamie and Trevor have a moment, and it is a good one. Trevor tells Jamie "I've only said 'the L-Word' to two people." One of them was a guy who asked "what are some Showtime shows you have heard of?" Maybe not. Anyway, Jamie and Trevor skate around some more and then Trevor says he is "really proud of" Jamie and I guess tears up a little. Jamie notices, and says she hasn't felt this way "in so long." Jamie is 21, I feel like I should remind everyone of that. Anyway, Jamie says "I'm falling in love with you" and then Trevor says "I'm falling in love with you too." Is this three? Or is "the L-Word" only when you don't include "falling in" before it? 
Matt and Rudi Date 
We've been primed to expect this to be the story of the episode, and the musical guest they have chosen is appropriate to the importance of the date. It is motherfucking Shaggy! And he is playing "Wasn't Me" at a club for some randos and Matt and Rudi. This is no "John Mayer's producer" or "the Plain White Ts, but not singing 'Hey There Delilah.'" Apparently the show booked a huge guest and dropped him into episode five of this weird show, or, alternatively, I am way more into Shaggy than anyone else. Also, "Wasn't Me" isn't exactly a relationship-affirming song. It is, however, the first song I would think of if you asked me for the song that most aggressively encouraged infidelity and lying.
Here's a refresher if you don't want to watch a video: 
Honey came in and she caught me red-handed

Creeping with the girl next door

Picture this we were both butt naked

Banging on the bathroom floor

How could I forget that I had

Given her an extra key

All this time she was standing there

She never took her eyes off me

….

But she caught me on the counter (It wasn't me)

Saw me bangin' on the sofa (It wasn't me)

I even had her in the shower (It wasn't me)

She even caught me on camera (It wasn't me)

She saw the marks on my shoulder (It wasn't me)

Heard the words that I told her (It wasn't me)

Heard the screams get louder (It wasn't me)

She stayed until it was over
Why did she stay until it was over? No one noticed? Are the marks on your shoulder really that incriminating considering she also caught you on camera? Anyway, the song holds up… in that it is no more inappropriate than it was when it came out. At the time I definitely assumed that the advice "just lie about what is obviously happening and a lot of people will believe it" was a joke, and no one would ever try it. Turns out Shaggy is a nickname, his real name is "Sean Spicer."
I mean, maybe Angel would have been a better pick for a "date"? 
Anyway–and Rudi probably should have been concerned by this–Matt knows all of the words. Shaggy brings them up on stage and Matt just grabs a mic and goes to town on what I can only assume is the second (and least-awesome) rendition of Wasn't Me" this small crowd witnessed. Rudi and Matt are hanging out after the show together, and Rudi tells Matt that she is "falling for" him. Matt's lackluster response is "that was very courageous of you." And then Rudi kind of storms off and Matt tells the camera he didn't want to say something that wasn't true. And, as previously noted, his tone would also work if he'd said "I just don't understand why Joe Rogan and Jordan Peterson are in town on the same night, how am I supposed to choose which one to go see?" Again, just saying the tone would fit. 
Natascha And Ryan Date
The least-serious couple gets the least-serious best date of the episode – smashing cars and other random stuff with giant construction equipment. They talk about the relationship in a way that it's clear that both parties know that this is a one reality-show stand. Who could blame them? Jason Mraz told them it would be this way two episodes ago.
Their date is so boring that the producers decide to add some content by giving them their song choice for the performance. It's "Perfect" by Ed Sheeran. I love this song – but mostly the duet version with Beyonce. Thankfully, when I tell Alexa to play "Perfect" by Beyonce, she knows exactly which song I'm talking about.
Ryan says he's excited to speed this song up – uh okay? It's not like there's not already a great version of how a duet of this song should be done out there with 6.3 million views on Youtube. And it didn't seem like Beyonce told Ed Sheeran that what this song needed was to have a faster tempo. And if Beyonce isn't messing with the arrangement, I'm not sure that "Ryan from Bachelor: Listen to Your Heart" should be messing with it easier. But I guess since he's got that white-male confidence, Natascha has to listen to him and see where it goes. While Ryan might not have Ed Sheeran's stage presence, I'm guessing he's not going to dress in t-shirt and jeans based on what we've seen so far. 
The Performances
Bri and Chris get "I Can't Help Falling in Love" by Elvis Presley – nice job producers in getting them the song they played on that luxurious date where they got an unguided tour of an empty Guitar Center store. For the longest time, I thought that song was a UB40 original because I didn't grow up in this country and I hadn't heard of Elvis before college. I also thought it was a UB40 song for a long time, and I grew up in this country. Though I figured it out embarrassingly during high school when a friend and I saw Jackie Chan sing it on television and I incorrectly declared "he's covering UB40." Some mocking ensued. Turns out we were both wrong, it was written by Extra Gum, the official gum of marrying your prom date. I hope UB40 played that song at that concert before before Brett Kavanaugh threw ice at an unsuspecting patron at a bar. Ali Campbell (UB40's lead singer) and Kavanaugh both had the same reaction to those allegations: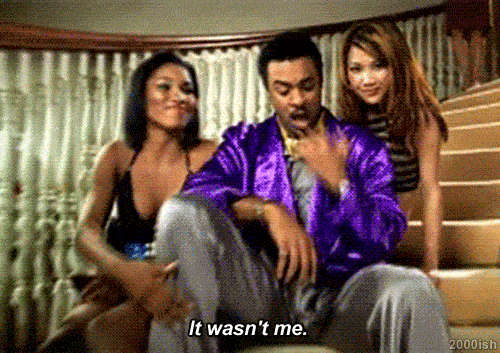 I must say, it's really hard to imagine Brett Kavanaugh throwing a temper tantrum.
Jamie and Trevor get "Just a Kiss" from Lady Antebellum – one of probably 4 country songs I've heard of in my life, and Rudi and Matt get "Shallow" by Lady Gaga and Bradley Cooper – the song that played for every trailer for this show. That song probably got picked for many a duet at karaoke bars in the last year or two. Karaoke bars are those places where random people sang, spat, and breathed onto the same microphone that gets passed around. Those things definitely existed pre-Covid 19! 
We see Matt and Rudi rehearsing with the band for the performance, and Matt gets all emotional and tells everyone that he would have left if Rudi wasn't there (and not to mention the social followers that comes from being on this show). That's so "courageous" of him. 
These performances will take place at a lounge at the NoMad hotel, where Chris Harrison introduces us to our judges: Arie and his second first-place finisher, Lauren Burnham (our second Lauren B of the season!); Pat Monahan of the band Train, Jessica Simpson's sister, and Jessica Simpson's sister's husband. When Chris Harrison had told the cast at the beginning of the episode that they're traveling to Vegas because things are getting bigger, he apparently did not mean the size of the audience. There are about 30 people in this venue, which was apparently used by Lady Gaga for her more intimate performances (no pressure Rudi!) 
Bri and Chris are up first and they are basically professionals by this point. It was a staring contest where neither contestant broke eye contact with the other during the entirety of the song. The judges loved it (notwithstanding Chris having some pitch issues at the start of the song). The most important thing I learned during the feedback session was that Lauren B actually talks. 
Jamie and Trevor are up next, and Jamie is an entirely different person pre-performance. She is beaming with confidence and can't wait to wow all these people "who are here to see her." Sorry Jamie, they are here to get on TV. But take no credit with Jamie, she is quite good during this rendition and carried Trevor. After these few episodes, it's clear that Trevor has the weakest singing voice among the remaining contestants, and he only made it on American Idol because Katy Perry was single at the time? Call it Aff-Roar-mative Action I suppose? I will! The power of Jamie's voice consistently drowns out Trevor's voice but the judges give generally positive feedback. Jamie and Trevor's improving performances correlating with the improvement of their relationship really gives a boost to the idea of this show. 
Natascha and Ryan are now ready with Ryan's new arrangement of "Perfect." It's jazzy, it's fast, and it requires Ryan to play the guitar with a hand-held microphone at one point. I mean, with lyrics like these, an airy and bubbly arrangement is exactly what the song needs – right?
Well, I found a man

Stronger than anyone I know

He shares my dreams

I hope that someday we'll share a home

I found a love

To carry more than just my secrets

To carry love, to carry children

Of our own
Anyway, the judges do not agree, and Pat Monahan asks "did you think it was a good performance?" – which is something you say as a judge when the thing you're judging sucked but you're too nice to say that to a person's face. Natascha had apparently flubbed one of her lines and sang the wrong part, but I'm not sure that really mattered. 
Ashlee Simpson should have recommended that Ryan and Natascha just lip sync next time. To be fair to Ryan and Natascha, their refusal to share a mic would look prudent in the age of coronavirus. Alas, before the virus "hand a microphone to a guy while he is playing the guitar" seems like a suspect strategy. Oh well, Ryan and Natascha took a risk and maybe ruined risk-taking for evermore.
Finally, Rudi and Matt close out the evening and they are really perfect. Rudi is a powerhouse vocalist and (while not quite Lady Gaga) delivered on the payoff lines of "Shallow." Her voice pairs really well with Matt's voice (more than can be said about their romantic connection apparently) and the performance kinda destroys the narrative of the show – a relationship in turmoil can still deliver great music. In any event, this performance makes Rudi and Matt the odds-on favorites to win the show, and whatever prize that entails.
The roses are a mere formality now as Ryan and Natascha are left roseless. While Natascha says that she hopes more will come out of this than just a music connection – I'm not sure that I believe her. After all, Jason Mraz told me not to.