Last week, five new women joined the chase for Matt James and inspired some problematic responses from many of the women who were already dating him. Victoria, an all-time villain, found common cause with several of the "OGs" including otherwise-largely-anonymous Anna from <sigh> Minnesota, who spread the rumor that new-girl Brittany is an escort. The support for this rumor is… an email "from someone" that notes that Brittany hangs out with rich men. At the end of the episode Katie went to Matt James to warn him about the bullying taking place between his other girlfriends.
As the women gather for the cocktail party, Matt James tries to address "the toxic environment in the house" and the issues among the old and new women and "the culture of bullying" and "the rumors that could possibly ruin someone's life." Watching this is like going back in time before First Lady Melania Trump was able to stamp out bullying (and definite articles) with her groundbreaking Be Best initiative. Matt James seems upset by what he has heard, and then asks Brittany to talk.
The remaining 19 women look at Anna, who asks the camera "who the fuck went to him?" Fair question, but a better question is "who the fuck went on television and accused a stranger of being an escort based on nothing?" Brittany tells Matt James "this is on national television, my mom watches this show, this could ruin my entire life." Matt James says "it's a lie" which is a good response when you have a national platform to address a lie someone told about your girlfriend on television.
The next conversation Matt James has is with Anna. Anna tells Matt James what happened and says she immediately felt horrible about "being a shallow person in the worst moment ever." Matt James tells Anna that she is "not a horrible person" and tries to empathize about his own times saying the wrong thing. 
Little did Matt know that he'll need to do a little cleanup of his own while these two episodes were airing – so it's a good thing that he showed a bit of grace here to Anna.
Matt James tells Anna he has to stop dating her now. Anna seems pretty upset, though she does not argue, and Matt James says he will walk her out. This notably does not give Anna the opportunity to apologize to Brittany or to find out who told Matt James. It is to Anna's credit that she owned up to the mistake that she made and recognized it as such, though I suspect the internet will still be somewhat unkind to Anna for her time on the show.
Chelsea tells the group she doesn't think the house is "toxic," though she may want to reevaluate that position when the person who immediately agrees with her is Victoria. Chelsea, as we know, comes from the notoriously supportive world of fashion modelling. 
What follows Matt James's statements and Anna's departure is a torrent of apologies of varying degrees of believability. Serena C notes that the apologies are flying fast and furious now that people see that Matt James is opposed to bullying. What this avalanche of apologies shows more than anything else is a profound lack of awareness from the antagonists – they do know that it's the producers who set up this season to have given women enter midseason – right? It's not like the five women were asked what their preferences were, and they all said, "yeah, I'm gonna want to go in after all the cliques have been formed and be the target of 'mean-girl' shenanigans."
Victoria semi-apologizes to Catalina for grabbing her tiara, essentially saying "you knew it was a joke, right?" Victoria probably should have offered some additional half-assed apologies because we see new-girl Ryan (a dancer) telling Matt James that Victoria called her "a ho." 
Matt James asks Victoria about it and Victoria says "that was completely out of context." Matt James says "in what context is calling someone a 'ho' acceptable?" Good question! Victoria survives this conversation, but is quite upset about "being called a bully or toxic." Just like I'm quite upset about people calling me weird for writing 1,500 words every Monday night about an inconsequential reality show for an audience that would fit comfortably inside a high-school gym – while complying with social-distancing guidelines. Sounds perfectly normal to me!
We see Victoria absurdly shade the other girls to the producers about how she is the only girl smart enough or serious enough for Matt James. Victoria uses the word "literally" a lot, including "I'm trying to be positive but if [I go home today], I will literally die." Even with our feelings toward Victoria – we hope that, for her sake, she has misused "literally" in that instance. 
Victoria's panic attack seems harrowing for her, though the other women don't appear to take it too seriously and Matt James may not be aware of it. Considering the producers seem to have been keeping Victoria around, making trouble for them at the rose ceremony was likely not a good move.
As usual, Chris Harrison tells the chorus of women that are waiting for time with Matt James that there will be no more cocktail party. Better luck next week, Serena C! Stay around long enough and you will definitely meet your boyfriend!
Rose Ceremony
Already with a rose are:
1. Michelle from the one-on-one date
2. Bri from the obstacle course group date 
3. Pieper from the boxing date
Unless I missed something (and hey, it isn't like I watch the show closely), they didn't really show Bri and Pieper getting these group-date roses. In order, the remaining roses go to:
4. Brittany (new girl, not an escort)
5. Ryan (new girl, not a ho)
6. Rachael (a girl he likes)
7. Serena P (one of the Serenas, the one who has actually talked to Matt James)
8. Magi (no longer stranded on a pumpkin boat)
9. Kit (very young child of a famous designer)
10. MJ (she does hair and is probably the meanest person not yet called out for being mean)
11. Jessenia (she was Ms. El Paso)
12. Katie (we like Katie!)
13. Abigail (she has a cochlear implant)
14. Chelsea (she's a model)
15. And the final rose goes to… Serena C! You will meet him soon, Serena C!
Not getting roses and thus going home, Lauren the lawyer, Catalina the former Ms. Puerto Rico Universe, Mari (he stared her butt the first night, and a little bit on this, her last night), and Victoria, who says "I honestly feel so sorry for you that you would listen to hearsay and not all of the facts behind the situation. So… goodbye." 
It would be remiss of us on this blog if we did not point out that Matt did not rely on hearsay. It seems that what cost Victoria was Ryan telling Matt that Victoria called her a "ho." When used against Victoria – that's a party admission – therefore not hearsay. Moreover, Matt is not using the statement for the truth of the matter asserted, i.e., to show that Ryan is a ho (it seems that Matt disagrees with the sentiment). Instead, the statement is being used to show that the speaker said it – which makes it also not hearsay. I'm going to guess that Victoria had not gone to law school and instead relied on some old episodes of Suits for her legal education.
Victoria's exit is just epic, and included all of the following statements (with errors included) except for one. See if you can spot the one Victoria did not say. 
"I am getting feelings invested!"
"I am taking it serious to be his wife."
"Literally there is no one in here he can marry besides me. Like I'm literally the best option for him. I am the only one with a working brain in this room. I am not being rude, I'm being serious."
"Does Matt really want a wife who is constantly creating drama, or does he want a wife like me?"
"Katie over me, are you blind? Katie is disgusting, we've known that for weeks."
"I'm actually kind hearted, honest, genuine, hardworking, fun, loyal–I'm, like, the most loyal–and I'm not, like, fake."
"So… have a good life, we will see you soon."
"You think I'm going to hug him goodbye? No. How dare you."
"I would be very surprised if the girls are okay that I left. The whole house is going to feel like shit that I'm gone. I brought so much joy."
"Matt is not the guy for me. I am not dating another Matt as long as I live. I hate that name now."
"We will he back in some form…have a nice life. We will see you soon." pic.twitter.com/Xg82CBRRwX

— David Begnaud (@DavidBegnaud) January 20, 2021
Chris Harrison checks in with the remaining fifteen women and tells them that things will change now that "we're past the halfway point, there is less women, we get more time" He means "there are fewer women." But maybe he's right and I'm wrong? After all, he is the published author…
Rachael One-on-one Date
Rachael gets the one-on-one date and it is time to cement Rachael as a frontrunner with a show mainstay, the "shopping-spree date." We normally call it the Pretty Woman date but, in light of recent unfounded allegations of prostitution, I think we can retire that moniker for the rest of this season.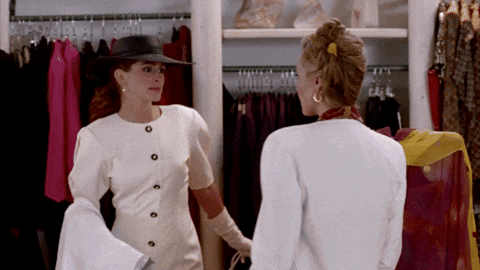 "Celebrity stylist" Ty Hunter is on hand with some macarons and Veuve Clicquot in what appears to be a store at Nemacolin? This resort has everything! The date involves Rachael trying on clothes for Matt James, with the understanding that I guess she can keep the ones she likes. On paper, this date is great because you get free clothes and don't have to box anyone or fall off of an ATV. But the kicker is, of course, returning to your roommates with bags full of new shit that no one else gets, and the resentment that engenders. 
Matt James gives Rachael a pair of Louboutins, and puts them on her feet. Regular readers of this blog (hi mom!) can confirm that I think the show secretly caters to the foot-fetishist community. And this sequence does not disprove my theory. Louboutin is getting its money's worth when the other women get super excited to see the red bottoms on Rachael's new bloody shoes.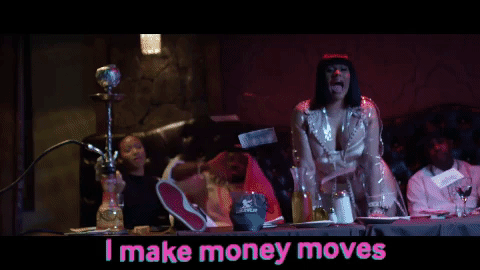 Rachael gets another box containing the dress she will wear at dinner, and has to open it in front of her increasingly jealous roommates. The show has managed to pivot from punishing the women who were too toxic to… trying to draw the toxicity out of the women to make for better television? 
George, I think you've missed the entire premise of the Bachelor. 
At dinner, Matt James toasts to spoiling Rachael and getting to know her better. I spent most of the dinner date thinking about why no one ate the macarons at the day date – I would have swallowed them before trying any clothes on – which is I guess reason 9324 that I'm not on the show. Rachael told Matt that she suffers from confidence problems and feels undeserving of love. Ahh – I see she has borrowed from the Ben Higgins playbook after meeting him last week. The date is kind of a snoozer except that Rachael tells Matt James that she is falling in love with him. Matt James says "you're not crazy because I feel the same way." He even seems to close his eyes when they kiss. Rachael is still a frontrunner. And she gets the date rose. They get into a horse-drawn carriage and ride around in front of the Nemacolin resort chateau, and that's the date.
As is usual with the show, you can expect most notable events for a contestant lead to some social-media drama, as evidenced by a cursory google search for Rachael Kirkconnell which shows that someone on TikTok posted a video that said "Remember when you bullied me in high school for liking black guys?" And, as is so often the case these days, she liked some things that other people do not like. 
There's some more cultural appropriation mess if you go down the Rachael rabbit hole. If only she were a Congressional representative rather than Bachelor contestant, Rachael could simply pretend that all of this is part of a woke left censorship, rather than something she'll probably need to say something about once her time on the show ends. 
 Farming Group Date
This date features almost everyone else: Serena P, Bri, Katie, Pieper, Serena C, Ryan, Michelle, Brittany, Magi, Abigail, Chelsea, Jessenia, and MJ. The date card says "Love can be messy." That leaves Kit with the one-on-one date. 
It's raining and the ground is a mess – and it seems that the chances of getting Louboutins on this date are extraordinarily slim. Instead, Matt meets the women with a farmer and tells them that he's a country boy at heart because he's from Raleigh. Umm – Matt, I lived four years in the RTP (or the 919 area code if you will, MattJames919) and I can tell you that the most country I ever felt in those four years was when I stumbled upon a Kappa Alpha keg party on that one night in college when I was blitzed (kidding of course, I got blitzed quite often). Just a reminder, mom: the navy blue writing is about Victor. In recent years, there are more startups looking for Series-B funding than cows in Raleigh – so Matt, leave Raleigh out of the country discussion will ya?
The women partake in all sorts of actual and pretend farm work – shoveling manure, collecting eggs, milking goats, and looking for a horseshoe in the hay (during the credit roll). No, they're definitely not getting Louboutins. Matt tosses an egg 30 feet in the air to MJ for some reason; and MJ attempts to catch it for some reason. 
No MJ – you're not going to impress Matt with your receiving skills. Matt did once haul in nine passes in a game against perennial football powerhouse Duke for 87 yards. 
The best evidence of a connection with Matt James that MJ has right now is that he once threw an egg at her.
Everyone got dirty this date (not in the way they may have wanted); we didn't see any substantive conversations, and the only connection we saw was between the tongues of Matt and Pieper. We'll need to wait for the evening portion to learn anything new about these women. 
At night, Matt pulls Chelsea immediately and tells her that he appreciates her being there and gets in a makeout session.
The next conversation we see Matt having is with Abigail – who's been in her feelings quite a bit, having not gotten a 1-on-1 date after getting the first impression rose. Abigail shares a vulnerable detail that any kids she would have could very well be deaf, and layers that with an exploration of how she felt when her father left her family at a young age. The implication, which is just heartbreaking, is that perhaps her father left her mother and sister because the children were born deaf. Matt says "I can't imagine that" – which is the thing he always says – but then adds that he understands what it's like to grow up with a single parent. That Abigail grew up in a single parent household is something that Matt admires. 
THESE ARE THE CONVERSATIONS WE NEED TO SEE MORE OF. 
Remember, the audience doesn't have the typical Bachelorette season to get to know Matt. We still don't know anything about him – except that he's Black and has abdominal muscles. And these are the conversations that help the audience better understand Abigail and Matt. 
We then see Matt talking to MJ – presumably going over how she could have high-pointed the egg and used her palms to caress the egg into her body and avoid the yolk cracking in her face. But no. Matt is telling MJ that someone brought up the fact that MJ had been antagonizing the new women and contributing to the toxicity in the house. And if you've been paying attention to these episodes, you know that whoever this "someone" is – she's telling the truth. 
Well MJ is not going to take this accusation of being an antagonist lying down – this Karen is going to need to talk to a manager. She sits down with all the women and basically asks "who's the snitch." Jessenia raises her hand – "It me." MJ says she leads by example and couldn't believe someone said that she was antagonizing. Jessenia brings up that MJ had characterized the "OGs" versus the newcomers as varsity versus JV. Michelle, who was probably on varsity in eighth grade, seems offended by the implication that she is JV. MJ doesn't deny this, but instead pivots to asking Jessenia for an apology. Apparently, MJ thought the apology avalanche from the start of the episode is going to spread to people who have nothing to apologize for. But no, MJ's white privilege is not going to get her an apology from a POC who didn't do anything wrong. 
Matt gives the group date rose to Abigail, but the battle for Matt's heart has now taken a clear backseat to Karen's search for justice. 
Kit One-on-one Date
Kit's date with Matt is at Matt's temporary lodgings where they prepare food in the kitchen. Kit discloses, for the first time to the viewer who does not have Twitter or IG, that her mother is a famous fashion designer. Cynthia Rowley is a designer I've not heard of but Stephanie has – so I suppose she's of some marginal fame. Amy described her as "I don't know, a designer who has a brand that's all over the place." If you ever visited Victor's and my shared lodgings in Chicago you would see that our notable brands were Chipotle, Nintendo, and Ikea. 
Kit tells Matt that since she grew up in the spotlight, she's built up walls over the years. Considering that she's 21 – I can't imagine those walls being very tall or very sturdy. Kit needs someone to help her fall in love, and she feels very "seen" by Matt. These must be some super Gen Z love code, because I have no idea what any of this means. Kit wants to go far in the show, so she tells Matt that she's letting her walls fall down and is feeling vulnerable. Perhaps sensing that Matt may not know what life with her entails, she assures Matt that she wants simple pleasures and is starting to fall in love with him. 
With that said, Matt gives Kit a rose and promises to use his ID to buy her beer once they get back to New York. 
This date felt very strange and a bit artificial. I suppose Kit and her fiancé Matt James will laugh at this together the night before their wedding. But it sort of seemed like a good idea for Kit to get some screen time and for Matt James to connect with someone in the fashion/media ecosystem in his adopted hometown. 
MJ and Jessenia Bilateral Negotiations
The women are waiting around for the cocktail party to start when a "date card" arrives – and it's a directive asking MJ and Jessenia to meet before the cocktail. This – two rival contestants resolving a dispute before a cocktail party – is a recent setup that has found its way into the last few seasons of the show (Bennett and Noah from Tayshia's season; Mykenna and Tammy on Peter's season – remember Peter?) 
Karen and Jessenia ride an SUV in silence to the site of the Camp Matt Accords – and sit across from each other. Karen breaks the silence by telling Jessenia how embarrassing this is, especially because Karen preaches harmony and peace, I suppose in the same way that Josh Hawley preaches integrity. Karen blames Jessenia for bringing this to Matt's attention, but Jessenia retorts (correctly) that Karen's behavior brought this to Matt's attention. Karen tells Jessenia that Matt will see the real truth when he arrives, but Jessenia retorts (correctly) that we will all see the real truth when this airs – and drops the mic with a stare straight into the camera.
Yes ma'am, we have seen the truth – and we've got our popcorn for next week!